Chef's Pass - Puerto Vallarta: Taco and Street Food Tour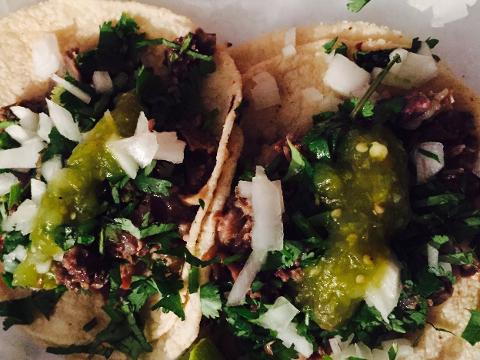 Duration : 4 Hours (approx.)
Location: Puerto Vallarta, Mexico
Product code : CP-AT&SFT
* Visit a family fonda, four adventurous
taco stands, a tamale cart, a churros cart a crepe table and traditional Mexican cenaduria
* Enjoy a THREE hour
culinary adventure through the heart and soul of historic Old Town (Emiliano Zapata).
* Savor TWO or THREE tacos at each stand. It's up to
you. Yes, that up to tacos, a tamale, some churros and a crepe. (You don't have to eat it all).
This street tour is built for food enthusiasts with a more adventurous palate. Tour meanders through the historical Emiliano Zapata neighborhood to sample what locals consider the most outstanding pulpo (octopus), cabeza (head), lengua (tongue) and tripa (tripe) pigs feet and fish roe in town. Or for the less adventurous eaters you have the choice of the traditional al pastor, chorizo, shrimp, al pastor, etc... Add to this feast a tamale, some churros and an evening ending street side crepe for good measure.
This is more than a street food tour. It is an adventure of the senses. Smile, laugh and learn about the deep history
and tradition of the Emiliano Zapata neighborhood. Inhale the enticing aromas permeating throughout the streets and savor the bold flavors that only the more adventurous cuts of meat can deliver.

Details:
* Professionally guided tours by licensed, insured and bonded tour guides.
* Guides are fluent at English and Spanish.
* This is a three hour walking tour through the streets of Old Town.
* Visit multiple street side food stands and enjoy over a dozen tacos, a tamale, churros and crepe!
* Includes water. Beer sold separately (your guide will direct you).
* Total walking distance of the entire tour is only about one mile.
* The food images you see in the photo are representative. You will not leave hungry.
What sets Chef's Pass apart from other tours?
1. Chef's Pass is dedicated to our guests experiencing tacos stands and street cuisine in settings that are safe and not rushed.
2. Each stand serves up to three tacos per person.
3. The tour will spend will about 30 minutes at each stand.
4. Great care is taken by the stand owners and chefs to provide you with an experience that is truly representative of their work.
5. The stands were chosen because they represent the best and most delicious alternative tacos available
in Puerto Vallarta.
6. The amount of food served at Chef's Pass is more than other tours. We firmly believe that the quality of the food you will enjoy is the most outstanding in the Puerto Vallarta region.
7. Tipping at Chef's Pass is not expected. If you would like to leave something extra for the stands, restaurant or guide, it is always appreciated.
Starting Point: Farmacia Guadalajara located on Insurgentes St. in Old Town.
Please arrive at Pharmacia Guadalaraja by 5:50pm. You will easily locate your Chef's Pass – Puerto Vallarta guide wearing a Chef's Pass shirt.
Address: Insurgentes No. 261, Emiliano Zapata, 48380 Puerto Vallarta, Jal., Mexico