Chef's Pass - Puerto Vallarta: The Best of El Centro Progressive Dinner Tour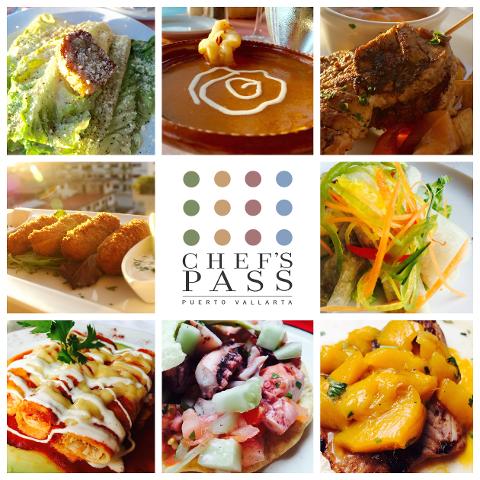 Duration : 4 Hours (approx.)
Location: Puerto Vallarta, Mexico
Product code : CP-BOEL
Experience FOUR award-winning restaurants, all family-owned and operated.
Enjoy THREE courses and a welcoming drink at each restaurant.
Savor ONE delicious four-hour, 12-course, culinary journey featuring the outstanding cuisine of Puerto Vallarta.
6pm - 9:30/10pm
Chef's Pass – Best of El Centro Dinner Tour is specially crafted for true food enthusiasts and curated to showcase the finest cuisine of el Centro Puerto Vallarta's celebrated family owned and operated local restaurants. This casual evening tour begins at El Panorama, located on the top floors of the tallest building of el Centro. Here you will absorb the beautiful panoramic view of all of Puerto Vallarta and watch the sunset from the best perch in town. Stop two brings you to another "best view restaurant", Barcelona Tapas where the energy rises as the light of day turns into night and you snack on the finest tapas in all of Vallarta. Stop three brings you to a stunning courtyard garden dining experience at Si Señor Garden where you will relax to Latin rhythms in a modern and quaint setting. The finale lands you at the delightful Melissa's Seafood, where owners Jorge and Leo will make sure you leave feeling like you're a part of their family. But you may never want to leave. And that's all right – there's nothing better than just hanging out and making new friends.
Details:

* Professionally guided tours by licensed, insured and bonded tour guides

* Guides are fluent at English and Spanish
* This is a 3.5 - 4 hour progressive food tour.
* Four restaurants serving three individually served, sit-down courses of their signature cuisine (not little tastings).
* Twelve total courses of authentic, local Puerto Vallarta cuisine.
* All four restaurants are local, family owned and operated.
* Total walking distance of the entire tour is only about 1/2 mile.
* The food images you see in the photo are representative of the cuisines, courses and serving sizes of each course.
* Each restaurant provides a welcoming beverage. Some are alcoholic and some aren't. Additional beverages may be purchased separately.
What sets Chef's Pass apart from other tours?

1. Chef's Pass is focused on the guests experiencing the restaurants' ambience and cuisine in a setting that is not rushed.
2. Each restaurant serves three sit down courses (not just tastings) separately. You will spend 45 - 50 minutes at each location.
3. Great care is taken by the restaurant to provide you with an experience that is truly representative of their work.
4. The 12 courses of each tour been intensely scrutinized and curated to deliver a wide variety of different dishes representative of the puerto Vallarta area.
5. We know that the amount of cuisine served at Chef's Pass is more than other tours. We firmly believe that the quality of the cuisine served is some of the most outstanding in the Puerto Vallarta region.

6. Chef's Pass does not suggest or include tipping automatically. Tipping at Chef's Pass is not expected. If you want to leave something extra for the restaurants or guides, that is at your discretion.